CHOOSING THE PERFECT SETTING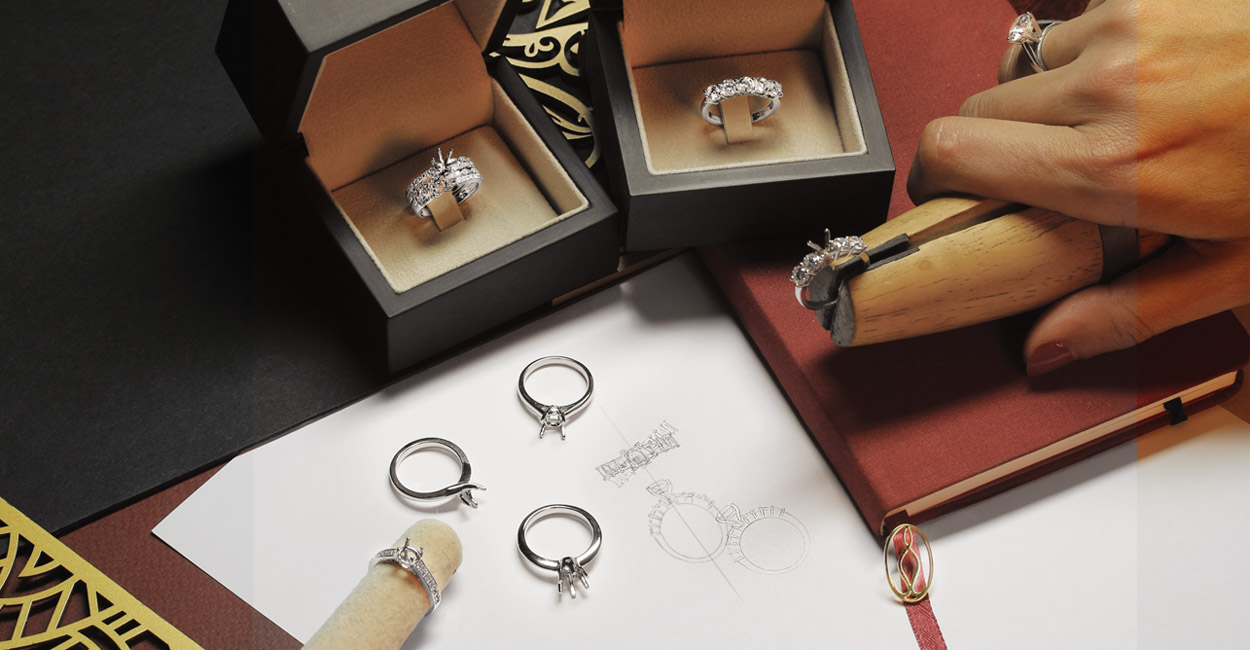 Settings are the structural link between a gem and its wearer's finger. This is why choosing the right setting becomes not just a choice of form but that of function. Crafting and curating masterpieces needs to ensure that your gem fits perfectly, both around your finger and in your heart. Opting for the perfect diamond setting can be quite a task especially if you are looking for your wedding ring and want it to look mesmerizing on your wedding ring finger. This huge decision can be exciting yet exhausting for a few till they find the perfect guidance from jewellery professionals.
Settings, just like any other piece of jewellery depend on personal preference and tastes. If you have always been intrigued by a specific setting, or you know which type of diamond shape looks best on you, go ahead and start there. Some settings are limited to accommodate certain shapes and cuts to optimise the functionality of that diamond jewel. For instance, many halo settings can only hold round or cushion stones. Our in-store jewellery experts offer bespoke recommendations on every handcrafted piece to show what diamond shapes are able to fit into that particular style.
Once you are aware of what settings can and cannot bear your desired diamond, you can finalise on the ones that look and feel the best. Just as the saying goes, 'Diamonds speak louder than words', your choice of setting also speaks volumes of your personality and preferences. The jewellery market is flooded with various types of styles and settings to crown your diamond upon to give it that one-of-a-kind touch. A few famous ones are the Halo, Solitaire, Classic, Vintage and Bezel settings.
Halo Settings
Halo settings are the perfect match for you if price is playing a big part in your decision and you aren't planning on purchasing a very big diamond. Your ring will appear as large as possible in this setting despite of the smaller stone which will give you and your stone a grand look. The diamond ring price in this type of solitaire ring designs is the most budget friendly as compared to the others.
Solitaire Settings
As one of the more popular settings for diamonds, the solitaire diamond ring style offers simplicity at its best. Although the setting is simple and vastly preferred, the diamond shapes you can use tend to be endless with infinite options. Oftentimes the fanciest diamonds are paired with this classic setting to bring all attention to the diamond and keep the base rather minimalistic.
Classic Settings
Classic diamond settings give you a refined and sophisticated look and appear elegant in comparison to the solitaire style. The main difference between a solitaire and a classic ring lies in the band or shank used. In a classic ring there is a row of smaller 'accent' diamonds that run along the band giving you the timeless look with more sparkle than a solitaire ring setting offers. The cost of the ring of piece of jewellery also differs in this style. The solitaire ring price in such settings does not really change due to the high demand for classic setting rings.
Vintage Settings
This antique yet heirloom look is desired by a few jewellery connoisseurs and is inspired from a vintage era and historic jewellery design styles. These settings have a distinct appeal and are moulded and fashioned after some of the greatest ancient periods in terms of design. From Art Deco to Victorian, if you love this type, you have a wide range of choices to pick from.
Other Settings
A bezel setting, similar to a halo setting, uses a type of elevated collar that surrounds its center stone. It does not consist of smaller diamonds like a halo does, rather, a bezel setting consists of a solid metal edging that is wrapped around the stone. This type of setting provides extra protection for your diamond. A cathedral setting highlights the center stone that is flanked by arches of metal that come up from the band, supporting the diamond. A prong is the most simple and classic diamond setting — prongs simply attach to the band and hold the diamond in place.